Morrelli Events Proudly Presents
Show starts approx. 8.30pm
Morrelli Events Presents
Bob Marley European Tribute Tour! & Reggae Legends
Direct from the UK! & JAMAICA! Starring The ReggaeMatic Band!


Bob Marley & Reggae Legends Band, Reggae Matic was formed by very talented keys player, Kamar Bromfield. He is an experienced reggae and soul musician that have worked with many well known reggae artist including, Aswad, The Wailers and the late Gregory Isaac. All the musicians have years of experience playing various arenas in many diferrent countries in Europe and America. Reggae Matik is a 6 piece outfit with very talented musicans and vocalists.
The two hour show covers the very best of Bob Marley's timeless classics: Is This Love, No Woman No Cry, Waiting in Vain, Exodus, I Shot The Sheriff, Jamming, Could You Be Loved. These are just a few of his million selling hits brought to you in this fantastic two hour tribute to the acknowledged master of reggae.
Also
Bonus performances of classic Pop Reggae hits and Reggae Legends. You'll be Jammin the Night Away!

Starring The ReggaeMatic Band!

MORE DETAILS REGARDING EVENT

30th June 2018

DETAILS

Date: Saturday 30th June 2018
Time: 8.30pm - 11.00pm
Cost: €20.00 (Show Only)


VENUE

PISSOURI Amphitheatre
Pissouri
Cyprus

TICKET OUTLETS




SATURDAY 30TH JUNE PISSOURI AMPHITHEATRE
(Cool Bags Allowed) Tickets Only €20 from
Platea Taverna Pissouri Square, H20 Owen Pissouri, Vanity Flair Limassol
&On-line at www.morrellievents.com Call 96-586891 for Information.
Doors 6.30pm Concert 8.30pm
Parking for Disabled Drivers Call 96-586891
Supporting SMHC

Platea Taverna Pissouri Square
H20 Owen Pissouri
Vanity Flair Limassol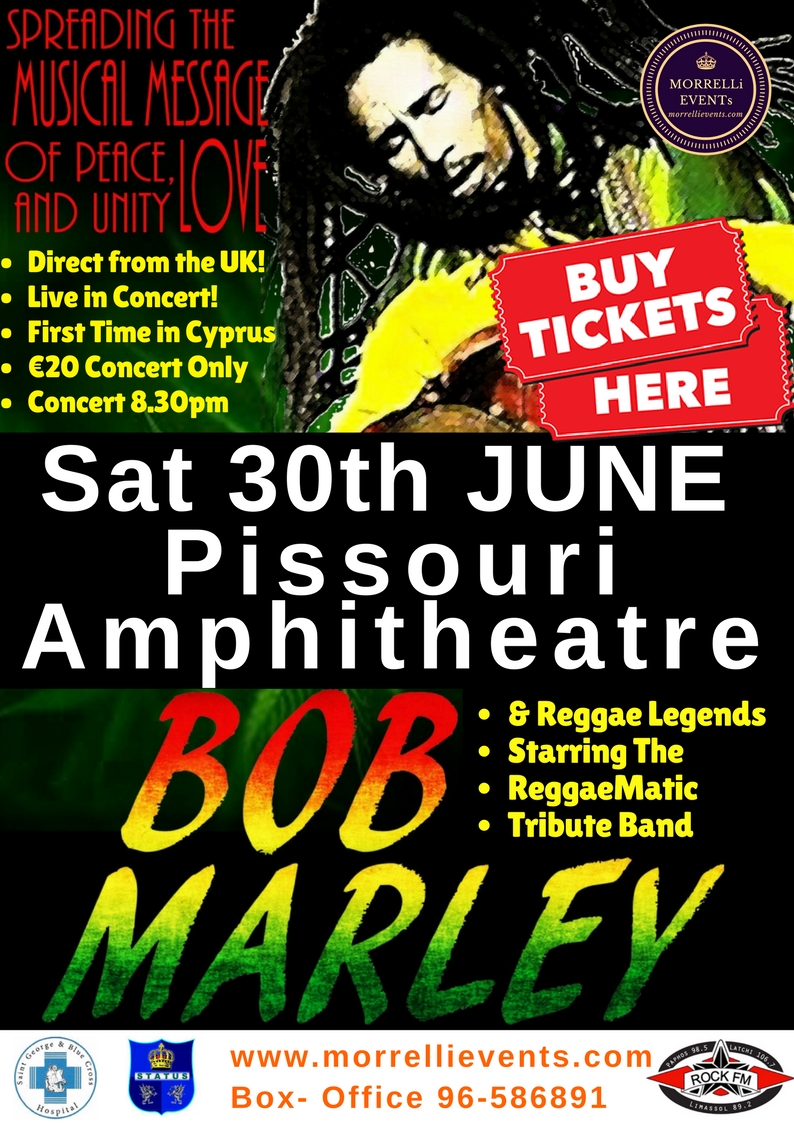 Box Office: 96586891
Email Address: ticketsales@morrellievents.com